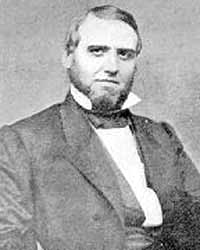 Alexander McClure was a newspaper editor and Republican State Chairman of Pennsylvania. A state senator and delegate to the 1860 Convention in Chicago, McClure was allied with Pennsylvania Governor Andrew G. Curtin and an opponent of Simon Cameron. He unsuccessfully fought Cameron's appointment to the cabinet in 1861 and continued to fight him for the next decade. A resident of Chambersburg, McClure's home was burned by Confederates invading Pennsylvania in 1864.
McClure and Cameron shared responsibility for the success of President Lincoln's reelection campaign in Pennsylvania in 1864. McClure was a frequent visitor to the White House and compiled books of memoirs and Abraham Lincoln's stories, such as this one about the crisis and General Winfield Scott after the surrender of Fort Sumter:
"My doubts multiplied, and a great idol was shattered before I left the White House that morning. I could not resist the conviction that General Scott was past all usefulness; that he had no adequate conception of the contest before us; and that he rested in confidence in Washington when there was not a soldier of average intelligence in that city who did not know that Beauregard could capture it at any time within a week. My anxiety deepened my doubts, and I continued my inquiries with the old warrior by asking how many men General Beauregard had at Charleston. The old chieftain's head dropped almost upon his breath at this question, and a trace of despair was visible as he answered in tremulous tones: 'General Beauregard commands more men at Charleston than I command on the continent east of the frontier.' I asked him how long it would require Beauregard to transport his army to Washington. He answered that it might be done in three or four days. I then repeated the question, 'general, is not Washington in great danger?' The old warrior was at once aroused, straightened himself up in his chair with a degree of dignity that was crushing, and answered—'No, sir the capital can't be taken; the capital can't be taken, sir.' President Lincoln listened to the conversation with evident interest, but said nothing. He sat intently gazing at General Scott, and whirling his spectacles around in his fingers. When General Scott gave the final answer that the capital could not be taken, Lincoln, in his quaint way, said to General Scott, 'It does seem to me, general, that if I were Beauregard I would take Washington.' This expression from the President electrified the old war-lion again, and he answered with increased emphasis, 'Mr. President, the capital can't be taken, sir; it can't be taken.'1
In McClure's judgment, "I have seen Lincoln many times when he seemed to speak with the utmost candor, I have seen him many times when spoke with mingled candor and caution, and I have seen him many times when he spoke but little and with extreme caution. It must not be inferred because of the testimony borne to Lincoln's reticence generally and to his singular methods in speaking on subjects of a confidential nature, that he was ever guilty of deceit. He was certainly one of the most sincere men I have ever met, and he was also one of the most sagacious men that this or any other country has ever produced. He was not a man of cunning, in the ordinary acceptation of the word; not a man who would mislead in any way, unless by silence; and when occasion demanded he would speak with entire freedom as far as it was possible for him to speak at all. I regard as one who believed that the truth was not always to be spoken, but who firmly believed, also, that only the truth should be spoken when it was necessary to speak at all."2
McClure wrote of meeting President-elect Lincoln in January 1861: "I doubt whether I wholly concealed my disappointment at meeting him. Tall, gaunt, ungainly, ill clad, with a homeliness of manner that was unique…, I confess that my heart sank within me as I remembered that this was the man chosen by a great nation to become its ruler in the gravest period of its history. I remember his dress as if it were but yesterday – snuff-colored and slouchy pantaloons; open black vest, held by a few brass buttons; straight or evening dress-coat, with tightly-fitting sleeves to exaggerate his long, bony arms, and all supplemented by an awkwardness that was uncommon among men of intelligence. Such was the picture I met in the person of Abraham Lincoln."3
McClure was a critic of Ulysses Grant, his military abilities, and presidential aspirations. After the war, he founded the Philadelphia Times, fought Grant and Cameron by becoming a Liberal Republican, and wrote several books about President Lincoln and his wartime contemporaries.
McClure also feuded with erstwhile presidential assistant John G. Nicolay over whether Mr. Lincoln had sought to replace Vice President Hannibal Hamlin with Andrew Johnson. The preponderance of evidence does not support McClure's contention that President Lincoln did use McClure and others to manipulate the Union convention in Baltimore in June 1864 on Johnson's behalf.
---
Footnotes
Alexander McClure, Abraham Lincoln and Men of War-Times, p. 69.
McClure, Abraham Lincoln and Men of War-Times, p. 76.
McClure, Abraham Lincoln and Men of War-Times, pp. 48-49.
Visit
Ulysses S. Grant
Mr. Lincoln's Office
Andrew G. Curtin
Simon Cameron
Winfield Scott
Andrew Johnson
John G. Nicolay
Abraham Lincoln and Pennsylvania
The Journalists (Mr. Lincoln and Friends)
John W. Forney (Mr. Lincoln and Friends)
Abraham Lincoln and Journalists
Thaddeus Stevens (Mr. Lincoln and Freedom)