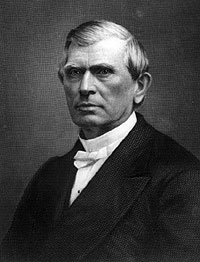 Learn More: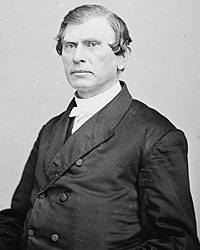 Matthew Simpson was a Methodist Bishop of Philadelphia who gave many lectures and sermons around the country during the Civil War. He was a supporter of the Union, emancipation and President Lincoln. The Lincoln Administration placed particular importance on maintaining the Union support of Methodists and Bishop Simpson was a key leader of Methodists. Occasionally, President Lincoln worshipped at one of the Methodist churches in Washington, such as the Foundry Church, where Bishop Simpson preached in January 1863. "Secretary Edwin Stanton and his wife were in front, on chairs; President Lincoln in the altar," Simpson later wrote. "The President made by contribution a life member; collection $770."1 Mrs. Lincoln's cousin, Elizabeth Todd Grimsley, later described him as "the beloved, sainted Bishop Matthew Simpson. She cited him and Archbishop John Hughes of New York City as exceptions to the "importunities, meddlesomeness, impatient censure, and arrogance of preachers, politicians, newspapers writers, and cranks."2
Secretary of War Edwin M. Stanton was particularly solicitous of Simpson and arranged for an army appointment for Simpson's son. Simpson's daughter observed: "Secretary Stanton were very intimate and very frequently consulted on important topics. No matter how great the pressure, the Secretary's room was always open to my father. I have heard him say that when calling at the War Department during the anxious days, Mr. Stanton would lead him by the arm into the private office and say, 'Now, Bishop, pray.'"3
Mr. Lincoln also appreciated Bishop Simpson non-religious views, according to Dr. Thomas Bowman, a fellow Methodist who was the Senate chaplain: "It was well known that the President occasionally sent for the Bishop in order to procure information about the affairs of the nation. The President said in substance, 'Bishop Simpson is a wise and thoughtful man. He travels extensively over the country and sees things as they are. He has no axe to grind, and therefore I can depend upon him for such information as I need.'"4
Bishop Simpson pushed the President to appoint Stanton as Chief Justice of the Supreme Court in late 1864, according to Stanton biographer Fletcher Pratt. Mr. Lincoln "used [Simpson] as a persuading influence toward leniency in cases involving Confederate sympathizers. But when the question of the Supreme Court appointment came up, the President merely told the bishop: 'If Mr. Stanton can find a man he himself will trust as Secretary of War, I'll do it.'"5
After the President's assassination, Bishop Simpson delivered a eulogy before the President's burial in Springfield,Illinois. Simpson finished his eulogy by saying: "Chieftain farewell! The nation mourns thee. Mothers shall teach thy name to their lisping children. The youth of our land shall emulate thy virtues. Statesmen shall study thy record and learn lessons of wisdom…""6
In September 1868, Simpson officiated at the wedding of Robert Todd Lincoln and Mary Harlan. Simpson has pushed President Lincoln to appoint Mary's father, Iowa Senator James Harlan, as secretary of the Interior.
---
Footnotes
Frank A. Flower, Edwin McMasters Stanton, p. 372.
Elizabeth Todd Grimsley, "Six Months in the White House," Journal of the Illinois State Historical Society 19 (Oct.-Jan., 1926-27): p. 60.
Flower, Edwin McMasters Stanton, p. 374.
DeWitt Jones, Lincoln and the Preachers, p. 56.
Fletcher Pratt, Stanton: Lincoln's Secretary of War, p. 300.
William C. Harris, Lincoln's Last Monthsv, p. 239
Visit
Rev. Phineas D. Gurley
Robert Todd Lincoln
Matthew Simpson (Mr. Lincoln and Friends)
The Preachers (Mr. Lincoln and Friends)
Mr. Lincoln and the Clergy