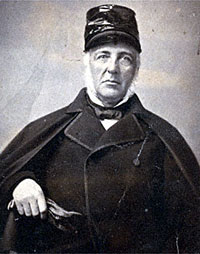 Learn More: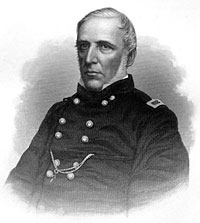 James S. Wadsworth, Union General, was an unsuccessful Republican candidate for Governor of New York State in 1862. Though on active service with the army, the wealthy landowner was nominated as the candidate of Radical Republicans over the objections of Republican boss Thurlow Weed. Wadsworth's abolitionist rhetoric was no match for the moderate Unionist arguments espoused by Democrat Horatio Seymour. Furthermore, the conscientious Wadsworth's campaign was doomed by the absence of Republican-leaning soldiers at the front – including Wadsworth. As brave as he was stubborn, he commanded the defense of Washington in 1862 and died after being wounded in the Wilderness campaign in 1864.
Although Wadsworth was named a major general of volunteers in mid-May, 1861, by mid-June it was clear that New York was not yet entitled to a second major general. Wadsworth resigned in deference to Democrat John A. Dix. Instead, Wadsworth accepted appointment as a major, serving on the staff of General Irvin McDowell at the First Battle of Bull Run. Two weeks later, Major Wadsworth was named a brigadier general by President Lincoln.
Wadsworth subsequently was appointed military governor of Washington, a position that put him at the center of political conflicts as well. For example, Wadsworth was called to enforce the War Department's censorship orders against the Washington Sunday Chronicle by taking "military possession of the printing office in which publication is made arrest the printers and publishers of the paper, take possession of all papers that can be found and destroy them, and hold the parties in custody that they may be dealt with according to the Rules and Articles of War."1
Biographer Wayne Mahood wrote: "With his headquarters close to the White House and having become the center of opposition to McClellan, Wadsworth's voice was increasingly being heard. Whether he thought of himself as a politician – and that is unlikely – he was perceived as such as was making his views known. To him slavery and military policy could not be separated: an aggressive military policy would result in the Confederacy's defeat and slavery's elimination."2
Wadsworth's strong and forthright opinions on military and civilian affairs set up several clashes, which President Lincoln had to mediate. When General George McClellan was to move the Union Army from the Washington Area to the Peninsula in March 1862, Wadsworth was left in charge of the troops in Washington. McClellan had prepared a report in which he claimed to have left 73,456 soldiers to defend the Capital. Wadsworth was asked by Secretary of War Stanton to make a census of Union forces around Washington, which were under his command. The report shocked the Administration by revealing that less than 20,000 soldiers were available and exposed General McClellan's insubordination. According to McClellan's sympathetic biographer, William Starr Myers, "everything at this time hinged upon the safety of Washington and adequate preparations made by McClellan to assure this. Unfortunately for the personal fortunes of McClellan, General Wadsworth, the commander in the capital city, while an honest man, was a thorough politician, with decided political ambitions, and hence of the exact type that would find difficulty in cooperating with him. The two men were essentially uncongenial in make-up and temperament, and friction was prompt in showing itself, for they lacked confidence in each other."3
Wadsworth biographer Henry Greenleaf Pearson: "In this state of affairs, with Lincoln, Stanton, and Wadsworth jealously watchful of the departing commander, it was the final letter of McClellan's… that confirmed their suspicions, and it was Wadsworth's action thereupon that set in operation the train of events which McClellan's partisans later affirmed prevented him from capturing Richmond. On the morning of April 2, the day after McClellan's departure, General Wadsworth appeared at the War Department with McClellan's letter of the day before ordering him to detach four good regiments to the Army of the Potomac and to send four thousand men to Manassas. In his whole command, Wadsworth said, he had not that number of men in fit condition to take the field, and to that effect he had telegraphed the general commanding at Manassas. From Wadsworth's indignant narrative Stanton received the full revelation of McClellan's contemptuous ignorance and indifference in regard to provision for the safety of Washington."4 Wadsworth took his responsibilities seriously. Biographer Wayne Mahood wrote: "Wadsworth carried on with his duties, even assuring the president that reports of his anxiety over Washington's defenses and the danger to which the capital was exposed were exaggerated."5
As a proponent of emancipation and commander of Union forces in Washington, Wadsworth also clashed with U.S. Marshal Ward Hill Lamon over arrests of contrabands and former slaves. Lamon, a long-time friend of President Lincoln, was aggressive in arresting those he viewed as fugitive slaves while Wadsworth was an outspoken advocate of emancipation. Things got so bad that President Lincoln summoned both Wadsworth and Marshall Lamon to the White House, according to Senator Orville H. Browning:
At night went to the Presidents at his request, to meet Marshall Lamon & Genl Wadsworth, the military Governor of the District, and try to devise some mode to prevent collisions between the civil and military authorities in the execution of the fugitive slave law. I proposed that Lamon should be permitted to execute all the writs which came to his hands, give Genl Wadsworth notice of arrest, reporting to him every day, holding each slave twenty-four hours after such report & notice — that if in the opinion of the Genl any of the slaves so arrested, belonged to rebels, and were entitled to military protection, all such should be given up by the Marshall to him — All others were to be proceeded with under the fugitive slave laws. Both gentlemen agreed to the proposition, and the President approved it.
I was much pleased with Genl Wadsworth. He is a calm, sensible, just and reasonable man, intent upon doing his duty in a sensible and reasonable manner, with no tincture of fanaticism about him, but firm in his hostility to slavery and rebellion.6
Wadsworth's integrity was admired by President Lincoln and he was often called on for advice when he was not commanding troops at the war front. As brave as he was stubborn, Wadsworth died on May 8, 1864 after being wounded in the Wilderness Campaign. Presidential assistant John Hay recorded: "I have not known the President so affected by a personal loss since the death of Baker, as by the death of General Wadsworth. While deeply regretting the loss of Sedgwick, he added, "Sedgwick's devotion and earnestness were professional. But no man has given himself up to the war with such self-sacrificing patriotism as Genl Wadsworth. He went into the service not wishing or expecting great success or distinction in his military career & profoundly indifferent to popular applause, actuated only by a sense of duty which he neither evaded nor sought to evade."7
---
Footnotes
Wayne Mahood, General Wadsworth: The Life and Times of Brevet Major James S. Wadsworth, p. 79.
Mahood, General Wadsworth: The Life and Times of Brevet Major James S. Wadsworth p. 107.
William Starr Myers, General George Brinton McClellan, p. 267.
Henry G. Pearson, James S. Wadsworth of Geneseo: Brevet Major-General of United States Volunteers, p. 118.
Mahood, General Wadsworth: The Life and Times of Brevet Major James S. Wadsworth, p. 102.
Theodore Calvin Pease, editor, Diary of Orville H. Browning, Volume I. p. 550 (June 11, 1862)
Michael Burlingame and John R. Turner Ettlinger, editors, Inside Lincoln's White House: The Complete Civil War Diary of John Hay, p. 196.
Visit
George B. McClellan
Ward Hill Lamon
Ward Hill Lamon (Mr. Lincoln and Friends)
James S. Wadsworth (Mr. Lincoln and New York)
Gubernatorial Elections (Mr. Lincoln and New York)