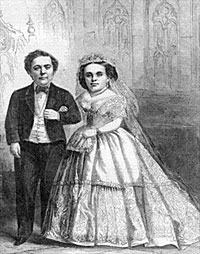 Learn More: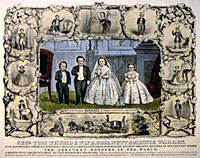 On February 13, 1863, a honeymoon Party was held at the White House for Charles S. Stratton and Livinia Warren, who had been married shortly before in New York City. "He was twenty-four years old, thirty-two inches high, and weight twenty-one pounds. She was four years younger, of the same height, and eight pounds heavier. Only a few [days] before, the 'distinguished Lilliputians' had been married in New York City, and P.T. Barnum, super-showman of the day who had the 'General' under contract, had lost no time in publicizing the vent and arrange to have the couple presented to chiefs of republics and royal sovereigns," wrote Stanley Kimmel.1 Warren and Stratton, who was known as General Tom Thumb, came to Washington where Stratton's brother was stationed with the Union Army. They stayed at Willard's Hotel before attending a well-publicized, well-attended reception at the White House in their honor.
The Friday reception, which son Robert condescendingly refused to attend, was one of the first events at the White House following a year-long mourning period for Willie. Livinia Warren said later that the "President took our hands and led us to the sofa, lifting the General up and placed him at his left hand, while Mrs. Lincoln did the same serve for me, placing me at her right…Tad, the favorite son, stood beside his mother and gazing at me…whispered to his mother, 'Mother if you were a little woman like Mrs. Stratton you would look just like her.'"2 Another attendee noted of the newly-weds: "With profound respect they looked up, up, to [Mr. Lincoln's] kindly face. It was pleasant to see their tall host bend, and bend, to take their little hands in his great palm, holding Made's with special chariness, as though it were a robin's egg, and he were afraid of breaking it."3
Mrs. Lincoln's biographer, Ishbel Ross, wrote: "Mrs. Tom Thumb sparkled with diamonds. Her heavy white satin dress, made by Madame Demorest, the New York fashion arbiter of the day, was looped with carnation buds and green leaves. Tom Thumb shone and glittered too, with sparkling breastpins, shiny patent-leather shoes and white kid gloves of infinitesimal size. They were an endearing pair as their wizened features crinkled up in smiles and laughter."4 One witness recalled that "while the bride and groom were taking a quiet promenade by themselves up and down the big drawing-room, I noticed the President gazing after them with a smile of quaint humor; but, in his beautiful, sorrow-shadowed eyes, there was something more than amusement – a gentle, human sympathy in the apparent happiness and good-fellowship of this curious wedded pair – come to him out of fairyland."5
Journalist Grace Greenwood recalled: "Mr. Lincoln's dress was sombre black, unrelieved except by gloves of white or very light kid, which had a rather ghastly effect on his large, bony hands. But Mrs. Lincoln was gay enough in attire – a low-necked gown of rich pink silk, with flounces climbing high up, over a hoop-skirt trellis, and pink roses in her hair. She was not handsome, but her manner was pleasant and kindly." She wrote: "The reception took place in the East room; and when, following the loud announcement, 'Mr. and Mrs. Charles Stratton,' the guests of honor entered from the corridor, and walked slowly up the long salon, to where Mr. And Mrs. Lincoln stood, to welcome them, the scene became interesting, though a little bizarre. The pigmy 'General,' at that time still rather good-looking, though slightly blasé, wore his elegant wedding suit, and his wife, a plump but symmetrical little woman, with a bright, intelligent face, her wedding dress – the regulation white satin, with point lace, orange blossoms and pearls – while a train some two yards long swept out behind her. I well remember the 'pigeon-like stateliness' with which they advanced, almost to the feet of the President, and the profound respect with which they looked up, up, to his kindly face. It was pleasant to see their tall host bend, and bend, to take their little hands in his great palm, holding Madame's with especial chariness, as though it were a robin's egg, and he were fearful of breaking it. Yet he did not talk down to them, but made them feel from the first as though he regarded them as real 'folks,' sensible, and knowing a good deal of the world. He presented them, very courteously and soberly, to Mrs. Lincoln, and in his compliments and congratulations there was not the slightest touch of the exaggeration which a lesser man might have been tempted to make use of, for the quiet amusement of on-lookers; in fact, nothing to reveal to that shrewd little pair his keen sense of the incongruity of the scene. He was, I think, most amused by the interest and curiosity of his 'little Tad,' who seemed disposed to patronize the diminutive gentleman and lady, grown up and married, yet lacking his lordly inches. When refreshments were being served, he graciously superintended his mother's kindly arrangements, by which the distinguished little folk were able to take their cake, wine and ices comfortably, off a chair."6
The next day, Mrs. Lincoln held her regular Saturday afternoon reception. The crowd was enormous because, Mrs. Lincoln supposed, they expected to see Stratton and Warren.
---
Footnotes
Stanley Kimmel,Mr. Lincoln's Washington, p. 113.
Ruth Painter Randall,Lincoln's Sons, pp. 118-119.
Abraham Lincoln: Tributes from his associates, reminiscences of Soldiers, Statesmen, and Citizens, p. 111.
Ishbel Ross,The President's Wife: Mary Todd Lincoln, p. 191.
Abraham Lincoln: Tributes from his associates, reminiscences of Soldiers, Statesmen, and Citizens, p. 112.
Allen C. Clark, Abraham Lincoln in the National Capital,Journal of the Columbia Historical Society, Volume XXVII, pp. 111-112.