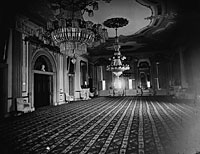 On February 5, 1862, Mary Lincoln organized a major ball in the East Room, followed by a late dinner in the State Dining Room. She had invited 500 representatives of Washington society to show off the redecorated White House, her own new dress, and "The Mary Lincoln Polka" played by the Marine Band in the East Room.
The event was described by John Nicolay as a "very respectable if not a brilliant success. The East Room was filled with well dressed guests, looking very beautiful and the supper was magnificent." 1 Guests came from congressional, military and diplomatic circles and were admitted only with their invitations in hand. The food came from New York and included images of the war constructed from sugar as well as a large buffet of meats and other delicacies. Dinner didn't start until after midnight and didn't end until almost dawn. The cost came to over $1,000. Benjamin Brown French maintained that contrary to public speculation, the expenses were paid "out of [the President's] own purse." 2
The East Room had undergone extensive renovations during President Buchanan's term of office, prior to Mrs. Lincoln's redecorating of the White House in 1861. Red and gold wall paper covered the walls and red silk drapes hung at the windows. The wall-to-wall blue-green carpet from Brussels with fruits and flower design alone cost $2500 — an expenditure which infuriated the President. Lincoln scholar Daniel Mark Epstein wrote: "As she ordered the contractor John Alexander to begin work on the White House in June – laying carpets, refinishing floors, hanging wallpaper and curtains, replacing moldings and cornices, adding some mirrors and regilding others – she quickly exhausted the $20,0000 government alliance. On July 3, she purchased $1,500 worth of Dorfliger cut glassware from Zimandy's in Washington, engraved with the United States seal."3 The redecoration was celebrated with a public levee on December 8, 1861. One observer wrote that the carpet "was of pale sea green, and in effect looked as if 'the ocean, in gleaming and transparent waves, were tossing roses at your feet."4
Not everyone appreciated her hospitality. Historian Michael Burlingame wrote of the February reception that Mrs. Lincoln 'was widely denounced for indulging in extravagance and frivolity while the soldiers were suffering and dying."5 One invited guest, Radical Republican Senator Benjamin Wade supposedly replied by writing on his invitation: "Are the President and Mrs. Lincoln aware that there is a civil war? If they are not, Mr. and Mrs. Wade are, and for that reason decline to participate in feasting and dancing."6 Among the critics were General John C. Frémont and his wife Jessie. Frémont had been removed three months earlier as the Union commander and the Frémonts were hardly fans of President Lincoln. Jessie later wrote:
"So many criticized the conduct of the war and…there was so much feeling of sorrow that Gen. Frémont's policy of emancipation was not to be carried out, that it became embarrassing, and we left. I had hardly got my wraps on before we were recalled by Mr. Sumner, who came with a message from the President saying that he wanted us to return, that he specially wanted Gen. Frémont. It seemed the President had found that Gen. McClellan and Gen. Frémont had never met….
As we crossed the long East Room, the President came forward to meet the General; took him by the arm leading him to Gen. McClellan who was at the upper end of the room, and introduced them to each other, then introducing Mrs. McClellan and myself. We bowed, but as each seemed to wait for the other, neither of us spoke a single word. One look showed me she was dressed in the Secession colors. A band of scarlet velvet crossed her white dress from shoulder to waist, and in her hair were three feathers of scarlet and white. If this was intentional, it was unpardonable in the wife of the commander-in-chief of the Union armies, and yet it seemed impossible to have been quite an accident. After a few minutes' talk between the President, Gen. McClellan, and Gen. Frémont, we left.7
Journalist Ben Perley Poore remembered the same incident, writing in his memoirs:
General McClellan, in full uniform, looked finely. Among his staff officers were the French Princes, each wearing a captain's uniform. The Comte de Paris was tall and very handsome, while the Duc de Chartres was taller, thinner, less handsome than his brother. Both were remarkably cordial and affable, and, as they spoke English perfectly, they enjoyed the gay scene. General Frémont, in a plain undress suit, seemed rather downcast, although his devoted wife, 'Jessie,' more than made up for his moodiness by her animated and vivacious conversation. There were, besides Generals McDowell, Stone, Heintzelman, Blenker, Hancock, Hooker, Keyes, Doubleday, Casey, Shields, and Marchy, with Captain Dahlgren and the Prince Salm-Salm. Of those present many fought, and some fell on the various fields of the next three dreadful years. There were others who were destined to do their duty and yet be mistaken and defrauded of their just inheritance of glory. Such was the fortune of war.
An incident of the evening was the presentation of General Frémont to General McClellan by President Lincoln. General Frémont was in the hall, evidently about to leave, as Mrs. Frémont had her shawl on, and Senator Sumner was escorting her toward the door, when the President went after them, and soon turned toward the East Room, with the Pathfinder at his side, Senator Sumner and Mrs. Frémont following. The presentation was made, and a few remarks were exchanged by the Generals, two men who were destined to exert a marked influence on the future destiny of the nation.8
Lincoln assistant Nicolay had a more somewhat more favorable review of the night, writing his finance:
Of course the ladies were all beautifully dressed having no doubt brought all their skill and resources to a culmination for this event. A lamentable spirit of flunkeyism pervades al the higher classes of society, they worship power and position with a most abject devotion, and cringe in most pitiable slavishness to all social honors and recognitions. Those who were here, therefore, (Some of them having sought, and almost begged their invitations,) will be forever happy in the recollection of the favor enjoyed, because their vanity has been tickled with the thought that they have attained something which others have not.
I will not attempt the labor of a detailed description of the affair…Suffice it to say that .the East Room was filled with well dressed guests, looking very beautiful and the supper was magnificent, and that when all else was over, by way of an interesting finale the servants (a couple of them) much moved by wrath and wine had a jolly little knock-down in the kitchen damaging in its effects to sundry heads and champagne bottles…."9
Poore noted: "The table was decorated with large pieces of ornamental confectionery, the centre object representing the steamer 'Union,' armed and bearing the 'Stars and Stripes.' On a side table was a model of Fort Sumter, also in sugar, and provisioned with game. After supper promenading was resumed, and it was three o'clock ere the guests departed. The entertainment was pronounced a decided success, but it was compared to the ball given by the Duchess of Richmond, at Brussels, the night before Waterloo. People parted there never to meet again. Many a poor fellow took his leave that night of festivity forever, the band playing, as he left, 'The Girl I Left Behind Me.'"10
Although it was a temporary social success for Mrs. Lincoln, the dinner was the beginning of a personal disaster for her. She later admitted that the ball had been a mistake, saying "Those who urged me to that heartless step now ridicule me for it…" 11 Upstairs from the festivities, her youngest sons lay sick with fevers. One of them, Willie, was to die on February 20 from this illness. Even Jessie Frémont took pity on the Lincolns:
It was announced officially that on account of the illness in the house there would be no dancing; but the Marine Band at the foot of the steps filled the house with music while the boy lay dying above. A sadder face than that of the President I have rarely seen. He was receiving at the large door of the East Room, speaking to the people as they came, but feeling so deeply that he spoke of what he felt and thought, instead of welcoming the guests. To Gen. Frémont he at once said that his son was very ill and that he feared for the result. On seeing his sad face and grieved appearance, the feeling with which we had gone gave way to pity, and after expressing our hopes for the lad's recovery we passed on to make our respects to the President's wife.12
Willie died on February 20. Senator Orville H. Browning and his wife helped the Lincolns deal with the death. Browning asked Benjamin Brown French, commissioner of public buildings to take charge of the funeral on February 24. Dr. Phineas D. Gurley of New York Avenue Presbyterian Church and Dr. John C. Smith of Fourth Presbyterian Church presided at the East Room service. Neither Mary Todd Lincoln or Tad Lincoln attended. French recorded in his diary that night:
I found everything properly arranged for the funeral. The body of little Willie lay in the green room, in the lower shell of a metallic coffin, clothed in the habiliments of life, and covered with beautiful flowers.
After looking about the house for a while I walked up into the President's office and read. He came up after I had been there about ½ an hour and appeared quite calm and composed. He talked about his family and about the war. The servant came in and told him 'Tad' desired to see him. He left immediately for his son's room. Gov. Seward came in, and soon after the President returned. I was sent for to go down and see someone about further preparation & did so. I did not see Mrs. Lincoln at all. About noon, The President, Mrs. Lincoln & Robert came down and visited the lost & loved one for the last time, together. They desired that there should be no spectator of their last sad moments in that house with their dead child & brother. They remained nearly ½ an hour. While they were thus engaged there came one of the heaviest storms of rain & wind that has visited this city for years, and the terrible storm without seemed almost in unison with the storm of grief within, for Mrs. Lincoln, I was told, was terribly affected at her loss and almost refused to be comforted. At two o'clock all were assembled in the East Room. The President & Robert, all the Cabinet officers; Gen. McClellan; the entire Illinois delegation in Congress; Vice President and Mrs. Hamlin, and a large attendance of persons in official positions, and citizens. Doctors P.D. Gurley & John C. Smith, conducted the services with great solemnity and propriety and then, followed by a procession in carriages about ½ a mile long, the body was borne to Oak Hill cemetery in Georgetown and temporarily deposited in the tomb of the Chapel, finally to be removed to Illinois. I returned to the President's, and then home…13
Willie had managed to capture the hearts of important visitors to the White House. The poet Nathaniel Parker Willis wrote of Willie's funeral in the East Room:
'On the day of the funeral I went before the hour, to take a near farewell look at the dear boy; for they had embalmed him to send home to the West–to sleep under the sod of his own valley – and the coffin-lid was to be closed before the service. The family had just taken their leave of him, and the servants and nurses were seeing him for the last time – and with tears and sobs wholly unrestrained, for he was loved like an idol by every one of them. He lay with eyes closed–his brown hair parted as we had known it – pale in the slumber of death; but otherwise unchanged, for he was dressed as if for the evening, and held in one of his hands, crossed upon his breast, a bunch of exquisite flowers – a message coming from his mother, while we were looking upon him, that those flowers might be preserved for her. She was lying sick in her bed, worn out with grief and overwatching.
'The funeral was very touching. Of the entertainments in the East Room the boy had been – for those who now assembled more especially–a most life-giving variation. With his bright face, and his apt greetings and replies, he was remembered in every part of that crimson-curtained hall, built only for pleasure–of all the crowds, each night, certainly the one least likely to be death's first mark. He was his father's favorite. They were intimates – often seen hand in hand. And there sat the man, with a burden on his brain at which the world marvels–bent now with the load at both heart and brain–staggering under a blow like the taking from him of his child! His men of power sat around him–McClellan, with a moist eye when he bowed to the prayer, as I could see from where I stood; and Chase and Seward, with their austere features at work; and senators, and ambassadors, and soldiers, all struggling with their tears–great hearts sorrowing with the President as a stricken man and a brother. That God may give him strength for all his burdens is, I am sure, at present the prayer of a nation."14
Browning himself wrote in his diary that night: "After the services the body was taken to the cemetery at Georgetown to be deposited in Mr Carroll's vault, and left, for the time being, in the little chapel in the cemetery The President, his son Robert, Senator [Lyman Trumbull] & myself rode out in the Presidents carriage. After return from Cemetery I brought Emma Home to Mrs Carters to dinner – Found Mrs Col Symington of Pittsburgh there. After tea I returned to the Presidents and Mrs B & I sat up with Tad till after 2 O'clock in the morning."15
---
Footnotes
Michael Burlingame, editor,With Lincoln in the White House: Letters, Memoranda, and Other Writings of John G. Nicolay, 1860-1865, p. 68.
Benjamin Brown French
Daniel Mark Epstein,The Lincolns: Portrait of a Marriage, p. 339.
Mary Clemmer Ames,Ten Years in Washington. Life and Scenes in the National Capital, as a Woman Sees Them, p. 171.
Michael Burlingame,Abraham Lincoln: A Life, Volume II, p. 283.
Hans Trefousse,Benjamin Franklin Wade, p. 167.
Allan Nevins,Frémont: Pathmarker of the West, p. 553.
Ben Perley Poore,Perley's Reminisces, Volume II, pp. 115-121.
Burlingame, editor,With Lincoln in the White House: Letters, Memoranda, and Other Writings of John G. Nicolay, 1860-1865, p. 68.
Poore,Perley's Reminisces, Volume II, pp. 115-121
Ruth Painter Randall,Mary Lincoln: Biography of a Marriage, p. 259.
Allan Nevins,Frémont: Pathmarker of the West, p. 553.
Donald B. Cole and John J. McDonough, editors,Witness to the Young Republic: A Yankee's Journal, p. 389.
Elizabeth Keckley,Behind the Scenes, pp. 108-110.
Theodore Pease, editor,Diary of Orville H. Browning, p. 531.
Visit
Orville H. Browning
Benjamin Brown French
George B. McClellan
John Nicolay