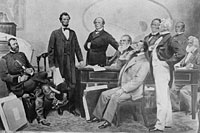 On April 14, 1865, the day President Lincoln was assassinated, the cabinet gathered for the last time. Sergeant Smith Stimmel recalled: "The fourteenth day of April was warm, calm, and beautiful, an ideal spring day. All Nature seemed to bask in the warm sunlight of assured peace, and the general public had settled down to dream of a glorious future for our reunited country!"1
The cabinet agenda combined serious discussion of reconstruction issues with a more light-hearted recounting of Mr. Lincoln's dreams. In attendance were Secretary of the Navy Gideon Welles, Secretary of the Treasury Hugh McCulloch, Attorney General Joshua Speed, Postmaster General William Dennison, and Assistant Secretary of State Frederick Seward. Arriving late were Secretary of the Interior John Palmer Usher and Secretary of War Edwin M. Stanton. The Union commander, Ulysses S. Grant, put in a very unusual appearance in order to report on the status of the Union victory. Grant normally led the Army from the Richmond front and seldom visited Washington. The meeting was memorable – even without the events which followed later in the day. The April 14 diary entry made by Gideon Welles reports the important discussion about cabinet members:
Last night there was a general illumination in Washington, fireworks, etc. To-day is the anniversary of the surrender of Sumter, and the flag is to be raised by General Anderson.
General Grant was present at the meeting of the Cabinet to-day, and remained during the session. The subject was the relations of the Rebels, the communications, the trade, etc. Stanton proposed that intercourse should be opened by his issuing an order, that the Treasury would give permits to all who wished them to trade, excluding contraband, and he, Stanton, would order the vessels to be received into any port. I suggested that it would be better that the President should issue a proclamation stating and enjoying the course to be pursued by the several Departments.
McCulloch expressed a willingness to be relieved of the Treasury agents. General Grant expressed himself very decidedly against them; thought them demoralizing, etc. The President said we, i.e., the Secretaries of Treasury, War, and Navy, had given the subject more attention than he had and would be satisfied with any conclusion we would united upon. I proposed to open the whole coast to any one who wished to trade, and who had a regular clearance and manifest, and was entitled to a coast license. Stanton thought it should not extend beyond the military lines. General Grant thought they might embrace all this side of the Mississippi.
Secretary Stanton requested the Cabinet to hear some remarks which he desired to make, and to listen to a proposition or ordinance which he had prepared with much care and after a great deal of reflection, for reconstruction in the Rebel States. The plan or ordinance embraced two distinct heads, one for asserting the Federal authority in Virginia, the other for reestablishing a State government. The first struck me favorably, with some slight emendations; the second seemed to me objectionable in several essentials, and especially as in conflict with the principles of self-government which I deem essential. There was little said on the subject, for the understanding was that we should each be furnished with a copy for criticism and suggestion, and in the mean time we were requested by the President to deliberate and carefully consider the proposition. He remarked that this was the great question now before us, and we must soon begin to act. Was glad Congress was not in session.
I objected that Virginia occupied a different position from that of any other State in rebellion; that while regular State governments were to be established in other States, whose Secession governments were nullities and would not be recognized, Virginia had a skeleton organization which she had maintained through the war, which government we had recognized and still recognized; that we to-day acknowledge Peirpoint as the legitimate Governor of Virginia. He had been elected by only a few border counties, it was true; had never been able to enforce his authority over but a small portion of the territory or population; nevertheless we had recognized and sustained him.
The President said the point was well taken. Governor Dennison said he though we should experience little difficulty from Peirpont. Stanton said none whatever.
I remarked the fact was not to be controverted that we had treated with the existing government and could not ignore our own acts. The President and a portion of West Virginia, recognized the validity of the government of Virginia and of Peirpont's administration, which had given its assent to that division. Without that consent no division could legally have taken place. I had differed with others in that matter, but consistency and the validity of our own act required us to continue to acknowledge the existing government. It was proper we should enforce the Federal authority, and it was proper we should aid Governor Peirpoint, whose government was recognized and established. In North Carolina a legal government was now to be organized and the State reestablished in her proper relations to the Union.
Inquiry had been made as to army news on the first meeting of the Cabinet, and especially if any information had been received from Sherman. None of the members had heard anything, and Stanton, who makes it a point to be late, and who has the telegraph in his Department, had not arrived. General Grant, who was present, said he was hourly expecting word. The President remarked it would, he had no doubt, come soon, and come favorably, for he had last night the usual dream which he had preceding nearly every great and important event of the War. Generally the news had been favorable which succeeded this dream, and the dream itself was always the same. I inquired what this remarkable dream could be. He said it related to your (my) element, the water; that he seemed to be in some singular, indescribable vessel, and that he was moving with great rapidity towards an indefinite shore; that he had this dream preceding Sumter, Bull Run, Antietam, Gettysburg, Stone River, Vicksburg, Wilmington, etc. General Grant said Stone River was certainly no victory, and he knew of no great results which followed from it. The President said however that might be, his dream preceded that fight.
'I had,' the President remarked, 'this strange dream again last night, and we shall, judging from the past, have great news very soon. I think it must be from Sherman. My thoughts are in that direction, as are most of yours.'
I write this conversation three days after it occurred, in consequence of what took place Friday night, and but for which the mention of this dream would probably have never been noted. Great events did, indeed, follow, for within a few hours the good and gentle, as well as truly great, man who narrated his dream closed forever his earthly career.2
As Acting Secretary of State, Frederick W. Seward received a note from the White House on the morning of April 14: "Please call a Cabinet meeting at eleven o'clock today. General Grant will be with us." The younger Seward, whose father was recovering from serious injuries from a carriage accident, duly "sent out the notices, and at the appointed hour came Secretaries McCulloch and Welles, Postmaster-General Dennison and Attorney-General Speed soon arrived, and I appeared as representative of the State Department. Mr. Lincoln, with an expression of visible relief and content upon his face, sat in his study chair, by the south window, chatting with us over 'the great news.' Some curiosity was expressed as to what had become of the heads of the rebel government – whether they would escape from the country, or would remain to be captured and tried; and if tried, what penalty would be visited upon them?
All those present thought that, for the sake of general amity and good will, it was desirable to have as few judicial proceedings as possible. Yet would it be wise to let the leaders in treason go entirely unpunished? Mr. Speed remarked that it would be a difficult problem if it should occur.
"I suppose, Mr. President," said Governor Dennison, 'you would not be sorry to have then escape out of the country?"
"Well," said Mr. Lincoln slowly, "I should not be sorry to have them out of the country; but I should be for following them up pretty close, to make sure of their going."
The conversation turning upon the subject of sleep, Mr. Lincoln remarked that a peculiar dream of the previous night was one that had occurred several times in his life, – a vague sense of floating – floating away on some vast and indistinct expanse, toward an unknown shore. The dream itself was not so strange as the coincidence that each of its previous recurrences had been followed by some important event or disaster, which he mentioned.
The usual comments were made by his auditors. One thought it was merely a matter of coincidences.
Another laughingly remarked, "at any rate it cannot presage a victory nor a defeat at this time, for the war is over."
I suggested, "perhaps at each of these periods there were possibilities of great change or disaster, and the vague feeling of uncertainty may have led to the dim vision in sleep."
"Perhaps," said Mr. Lincoln, thoughtfully, 'perhaps that is the explanation."
Seward recalled: "General Grant entered, in accordance with the President's invitation and was received with cordial welcomes and congratulations. He briefly and modestly narrated the incidents of the surrender. Mr. Lincoln's face glowed with approval when, in reply to his inquiry, 'What terms did you make for the common soldiers?" General Grant said, "I told them to go back to their homes and families, and they would not be molested, if they did nothing more." He added: "Kindly feeling toward the vanquished, and hearty desire to restore peae and safety at the South, with as little harm as possible to the feelings or the property of the inhabitants, pervaded the whole discussion."
Seward described the conversation about reconstruction as "long and earnest, with little diversity of opinion, except as to details. One of the difficulties of the problem was, who should be recognized as State authorities? There was a loyal governor in Virginia. There were military governors in some of the other States. But the Southern legislatures were for the most part avowedly treasonable. Whether they should be allowed to continue until they committed some new overt act of hostility; whether the governors should be requested to order new elections; whether such elections should be ordered by the General Government – all these were questions raised." He added: "Among many similar expressions of the President was the remark: 'We can't undertake to run State Governments in all these Southern States. Their people must do that, though I reckon that, at first, they may do it badly.'"
Frederick Seward noted: "It must have been about two o'clock when the meeting ended. At its close, the President remarked that he had been urged to visit the theatre that evening, and asked General Grant if he would join the party The General excused himself, as he had a previous engagement. He took his leave, and some of the others followed him.
Then I said, "Mr. President, we have a new British Minister, Sir Frederick Bruce, He has arrived in Washington, and is awaiting presentation. At what time will it be convenient for your to receive him?'
He paused a moment in thought, and replied:
"Tomorrow at two o'clock."
"In the Blue Room, I suppose?"
"Yes, in the Blue Room," and then added with a smile,
"Don't forget to send up the speeches beforehand. I would like to look them over."
I promised to do so, and then took my leave. – I never saw him afterwards."3
President Lincoln met a variety of Administration and congressional officials that day while finding time to take a carriage ride with his wife that afternoon and go to the theater that night. Carl Sandburg wrote: Other callers that day included Congressman Cornelius Cole of California, a Grand Rapids, Michigan, lawyer, W. A. Howard, and the 'lame-duck' Senator John P. Hale of New Hampshire, appointed by the President to be Minister to Spain, his many slashing attacks on the Administration now forgotten."4
One official with whom Mr. Lincoln met was Assistant Secretary of War Charles A. Dana, who was in charge of army intelligence. On April 14, he received a telegram from Portland, Maine. The provost marshal that Jacob Thompson would travel through Portland that night and requested instructions. Dana sought the President's advice:
Jacob Thompson, of Mississippi, had been Secretary of the Interior in President Buchanan's administration. He was a conspicuous secessionist, and for some time had been employed in Canada as a semi-diplomatic agent of the Confederate Government. He had been organizing all sorts of trouble and getting up raids, of which the notorious attack on St. Albans, Vt., was a specimen. I took the telegram and went down and read it to Mr. Stanton. His order was prompt: 'Arrest him!' But as I was going out of the door he called to me and said: 'No, wait; better go over and see the President.'
At the White House all the work of the day was over, and I went into the President's business room without meeting any one. Opening the door, there seemed to be no one there, but, as I was turning to go out, Mr. Lincoln called to me from a little side room, where he was washing his hands:
'Halloo, Dana!' said he. 'What is it? What's up?'
Then I read him the telegram from Portland.
'What does Stanton say?' he asked.
'He says arrest him, but that I should refer the question to you.'
'Well,' said the President slowly, wiping his hands, 'no, I rather think not. When you have got an elephant by the hind leg, and he's trying to run away, it's best to let him run.
With this direction, I returned to the War Department.
'Well, what says he?' asked Mr. Stanton.
'He says that when you have got an elephant by the hind leg, and he is trying to run away, it's best to let him run.'
'Oh, stuff!' said Stanton. 5
---
Footnotes
Smith Stimmel, Personal Reminiscences of Abraham Lincoln, p. 85.
Diary of Gideon Welles, Volume II, pp. 280-283.
Frederick W. Seward, Reminiscences of a War-Time Diplomat, pp. 254-257.
Carl Sandburg, Abraham Lincoln: The War Years, Volume IV, p. 630.
Charles A. Dana, Recollections of the Civil War, pp. 237-38.
Visit
Charles A. Dana
Edwin M. Stanton
Ulysess S. Grant
Abraham Lincoln's Assassination
William H. Seward