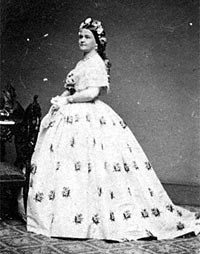 Mrs. Lincoln's bedroom was the scene of both happy and intensely sad events, many of which were recorded by Elizabeth Keckley, who was hired as Mrs. Lincoln's dressmaker after she had interviewed several others. Mrs. Keckley remembered:
"I went up-stairs timidly, and entering the room with nervous step, discovered the wife of the President standing by a window, looking out, and engaged in lively conversation with a lady, Mrs. Grimsley, as I afterwards learned. Mrs. L. came forward, and greeted me warmly.
'You have come at last. Mrs. Keckley, who have you worked for in the city?'
'Among others, Mrs. Senator [Jefferson] Davis has been one of my best patrons,' was my reply.
'Mrs. Davis! So you have worked for her, have you? Of course you gave satisfaction; so far, good. Can you do my work?'
'Yes, Mrs. Lincoln. Will you have much work for me to do?'
Mrs Lincoln told her: "That, Mrs. Keckley, will depend altogether upon your prices. I trust that your terms are reasonable. I cannot afford to be extravagant. We are just from the West, and are poor. If you do not charge too much, I shall be able to give you all my work."1
Mrs. Keckley was also witness to the interactions between Mrs. Lincoln and her husband as they dressed for social events. Just before he descended to a reception, for example, President Lincoln often turned to Mrs. Keckley and said: "Well, Madam Elizabeth, will you brush my bristles down tonight?"2 Although Mrs. Lincoln had her own social salon – primarily for male friends – she was very jealous of President Lincoln's interactions with women:
'Mrs. Lincoln's love for her husband sometimes prompted her to act very strangely. She was extremely jealous of him, and if a lady desired to court her displeasure, she could select no surer way to do it than to pay marked attention to the President. These little jealous freaks often were a source of perplexity to Mr. Lincoln. If it was a reception for which they were dressing, he would come into her room to conduct her down-stairs, and while pulling on his gloves ask, with a merry twinkle in his eyes:
'Well, mother, who must I talk with to-night–shall it be Mrs. D.?'
'That deceitful woman! No, you shall not listen to her flattery.'
'Well, then, what do you say to Miss C? She is too young and handsome to practice deceit.'
'Young and handsome, you call her! You should not judge beauty for me. No, she is league with Mrs. D., and you shall not talk with her.'
'Well, mother, I must talk with some one. Is there any one that you do not object to? trying to button his glove, with a mock expression of gravity.
'I don't know as it is necessary that you should talk to anybody is particular. You know well enough, Mr. Lincoln, that I do not approve of your flirtations with silly women, just as if you were a beardless boy, fresh from school.'
'But, mother, I insist that I must talk with somebody. I can't stand around like a simpleton, and say nothing. If you will not tell me who I may talk with, please tell me who I may not talk with.'
'There is Mrs. D. and Miss C. in particular. I detest them both. Mrs. B. also will come around you, but you need not listen to her flattery. These are the ones in particular.'
'Very well, mother; now that we have settled the question to your satisfaction, we will go down-stairs;' and always with stately dignity, he proffered his arm and led the way.'3
When Elizabeth Keckley was first hired as Mrs. Lincoln's modiste, she made a dress for Mrs. Lincoln for a reception early in the Lincoln Administration. When she arrived at the White House, Mrs. Lincoln was in an uproar, refusing to go down because she could not possibly be ready. Mrs. Keckley volunteered to dress her and fix her hair:
"Mr. Lincoln came in, threw himself on the sofa, laughed with Willie and little Tad, and then commenced pulling on his gloves, quoting poetry all the while.
'You seem to be in a poetical mood to-night,' said his wife."
"Yes, mother, these are poetical times,' was his pleasant reply. 'I declare, you look charming in that dress. Mrs. Keckley has met with great success." And then he proceeded to compliment the other ladies." 4
Mrs. Lincoln's bedroom had a particular importance for the Lincolns -given her predilection to debilitating illness and grief. She had long been afflicted by blinding headaches and other illnesses. It was here she spent the days after the death of her son Willie in 1862. He had often come to her room to read or write; Mrs. Lincoln was convinced that he would be "the hope and stay of her old age." 5 After Willie's death, Mrs. Lincoln seldom left her bedroom for several months. Indeed, she sometimes saw images of her deceased son there. Seamstress Elizabeth Keckley was the most frequent visitor to Mrs. Lincoln and she later wrote:
"In one of her paroxysms of grief the President kindly bent over his wife, took her by the arm, and gently led her to the window. With a stately, solemn gesture, he pointed to the lunatic asylum.
"'Mother, do you see that large white building on the hill yonder? Try and control your grief, or it will drive mad, and we may have to send you there.'
"Mrs. Lincoln was so completely overwhelmed with sorrow that she did not attend the funeral. Willie was laid to rest in the cemetery, and the White House was draped in mourning. Black crape everywhere met the eye, contrasting strangely with the gay and brilliant colors of a few days before. Party dresses were laid aside, and every one who crossed the threshold of the Presidential mansion spoke in subdued tones when they thought of the sweet boy at rest–
"'Under the sod and the dew.'
"Previous to this I had lost my son. Leaving Wilberforce, he went to the battle-field with the three months troops, and was killed in Missouri – found his grave on the battle-field where the gallant General Lyon fell. It was a sad blow to me, and the kind womanly letter that Mrs. Lincoln wrote to me when she heard of my bereavement was full of golden words of comfort.6
The last major social occasion for the Lincolns was the levee after inauguration on March 4, 1865. Mrs. Keckley described the preparations:
"This was Saturday, and on Monday evening I went to the White House to dress Mrs. Lincoln for the first grand levee. While arranging Mrs. L.'s hair, the President came in. It was the first time I had seen him since the inauguration, and I went up to him, proffering my hand with words of congratulation.
He grasped my outstretched hand warmly, and held it while he spoke: 'Thank you. We do not know what we destined to pass through. But God will be with us all. I put my trust in God.' He dropped my hand, and with solemn face walked across the room and took his seat on the sofa. Prior to this I had congratulated Mrs. Lincoln, and she had answered with a sign, 'Thank you, Elizabeth; but now that we have won the position, I almost wish it were otherwise. Poor Mr. Lincoln is looking so broken-hearted, so completely worn out, I fear he will not get through the next four years.' Was it a presentiment that made her take a sad view of the future? News from the front was never more cheering. On every side the Confederates were losing ground, and the lines of blue were advancing in triumph. As I would look out my window almost every day, I could see the artillery going past on its way to the open space of ground, to fire a salute in honor of some new victory. From every point came glorious news of the success of the soldiers that fought for the Union. And yet, in their private chamber, away from the curious eyes of the world, the President and his wife wore anxious faces.
I finished dressing Mrs. Lincoln, and she took the President arms and went below. It was one of the largest receptions ever held in Washington. Thousands crowded the halls and rooms of the White House, eager to shake Mr. Lincoln by his hand, and receive a gracious smile from his wife. The jam was terrible, and the enthusiasm great. The President's hand was well shaken, and the next day, on visiting Mrs. Lincoln, I received the soiled glove that Mr. Lincoln had worn on his right hand that night.7
---
Footnotes
Elizabeth Keckley, Behind the Scenes, pp. 84-85.
Keckley, p. 203.
Keckley, pp. 124-126.
Keckley, p. 88.
Stephen B. Oates, With Malice Toward None: A Life of Abraham Lincoln, p. 288.
Keckley, pp. 104-105.
Keckley, pp. 156-167.
Visit