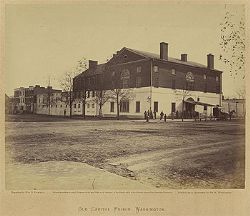 Bed-bug and vermin-invested jail for Confederate spies and others suspected of Confederate sympathies during the Civil War. Located at 1st and A Streets just east of the U.S. Capitol, the building received its name because for four years (1815-1819) it had housed Congress after the Capitol burned in the War of 1812. It had been a private school, boarding house and hotel before being turned into a jail in July 1861 and was used to house many who were arrested after President Lincoln suspended habeas corpus in May 1861. Among the 20,000 prisoners held here was Confederate raider John Mosby.
According to Colonel N. T. Colby, who became prison superintendent at the end of the war: "That which is commonly known as the Old Capitol Prison, and which figured so conspicuously in the history of the late war, consisted, really, of two separate and distinct edifices, locally known by the names of the Old Capitol and the Carroll buildings, and were situated, the first, on the corner of Pennsylvania avenue and East First street, and the other on the corner of Maryland avenue and East First – a block apart, and both facing the Capitol building and East Capitol Park. The "Old Capitol" was so named from having been the temporary meeting-place of both Houses, I believe, after the destruction of the Capitol buildings by the English under Ross, in the war of 1812, and the other from its having been the property of the Carroll family…Of course the use to which they were devoted in the late war was far enough from that for which they were originally constructed, and, in fact, in their earlier and better days, they earned, historically, a higher reputation than many more pretentious Washington edifices. The Old Capitol, especially, after its abandonment by Congress, was occupied as a fashionable boarding-house, and was largely patronized by the 'creme de la creme' of the Southern dwellers in Washington."1
Historian Allan Nevins described the Old Capitol Prison as "a decaying jail hastily refurbished for captured Confederates, refugee Negroes, blockade runners, and state prisoners. The verminous rooms tank of open drains, sweaty inmates, and the eternal fare of salt pork, beans and rice. A military guard clattered its arms on the cobblestones outside while patrols thumped up and down the wooden hallways. The dark, ill-ventilated cells, kept full to bursting, became breeding places for all kinds of maladies. During 1862 a midsummer influx of captured Confederates raise the population to 600. The one redeeming feature of this ramshackle barn was its convivial jollity, for most prisoners were herded into five large second-story rooms partitioned out of the great chambers which had been occupied by Congress just after the burning of the Capitol in 1815. Here, by pooling their resources, the inmates could while away the hours with poker, dominoes, tobacco, whisky and talk."2
Prison Superintendent William P. Wood was appointed to his post in January 1862 by newly appointed Secretary of War Edwin M. Stanton. (Wood is not to be confused with William S. Woods, who briefly and lamentably served as commissioner of public buildings until President Lincoln fired him.) Wood has been described as the first director of the U.S. Secret Service.
In addition to his jail and intelligence activities, Wood took on a third mission. Historian Robert Harrison wrote: "Many of the fugitives arriving in Washington during the early months of the war had been housed in the Old Capitol Prison, which also served as a jail for political prisoners. There the contrabands came under the supervision of William P. Wood, the superintendent of the jail, who set about finding employment for as many as possible. Wood told a Senate committee in February 1862 that between two hundred and three hundred contrabands had come under his care, that he had found situations for those who were employable, and that all were 'doing well.'" However, early in 1862, acting on the advice of the surgeon in charge of contrabands that, 'as a sanitary measure, they should be removed to some place where they can be kept more apart from respectable white people,' the black inmates were moved to tenements on Duff Green's Row, east of the Capitol, where five hundred were housed in May."3 Eventually, a Methodist minister was named as superintendent of contrabands and they were moved elsewhere.
After the emancipation of District of Columbia slaves in June 1862, the handling of contrabands became a serious political problem in the city with General James Wadsworth generally supporting the contrabands and U.S. Marshal Ward Hill Lamon generally supporting Maryland slave owners. Historian Wayne Mahood wrote: "Military Governor Wadsworth was caught in the middle. For example, William Wood, superintendent of the Old Capitol Prison, was struggling to find 'situations' for former slaves with military or private employers. Further, the lodging of runaways and freed Blacks in the already overcrowded prison offended many, including an army doctor who urged for sanitary reasons that the Black inmates be 'kept apart from respectable white people.' Wadsworth agreed and ordered the inmates 'relocated to Duff Green's Row, a cluster of tenements just east of the Capitol,' with Wood in charge of them. As military governor, Wadsworth made policy daily, much as he had done when he skirmished with Marshal Lamon earlier. At issue then was whether civil or military authority controlled. Though Attorney General Bates ruled that the civil prevailed, Wadsworth's efforts to assist these 'contrabands' continued unabated."4 The row of houses known as Duff Green's Row included a boarding house where Congressman Abraham Lincoln stayed from 1847-1849. It subsequently became the site of the Library of Congress.
Historian Lonnie D. Speer wrote: "Old Capitol Prison began to play an important part in the Federal Secret Service system by its second year. In addition to holding political prisoners and Confederate prisoners of war, a number of suspected Confederate spies were held there. These included people such as Rose O'Neal Greenhow, who took her eight-year-old daughter to jail with her and continued espionage work using the young girl as a courier, and nineteen-year-old Belle Boyd, who continually taunted the guards and sang Confederate songs at her window. William P. Wood, the prison commandant, acted as a special agent for the War Department and frequently interrogated the inmates. When critical information was obtained he forwarded it directly to Secretary Stanton."5
Southern sympathizer James J. Williamson, who was imprisoned there, wrote: "Conditions in the Old Capitol differed in many respects from the prison camps. Prisoners in the Old Capitol were mostly civilians, except where soldiers (either prisoners of war or men charged with offenses), were brought in and kept until they could be sent to places designated; or prisoners from other prisons held over until they could be shipped South for exchange."6 Historian Alicia Rodriguez wrote: "As foul and uncomfortable as the prison was, prisoners at Old Capitol were better off than many inmates housed at other penitentiaries. Unlike many Civil War prisons, inmates at Old Capitol were served meals three times a day. And although the meals served in the dirty mess hall were said to have varied little from day to day, captives in Old Capitol prison suffered less from malnutrition and from intestinal tract disorders than did inmates in other Civil War prisons."7
Historian Waldo Emerson Reck noted that in the aftermath of Lincoln's assassination, many Washington residents tried to turn their anger against inmates of the prison where 800 Confederate army officers were being held: "'About 2,000 went to the Old Capitol prison to burn it, and they called upon the people to come out and see the rebels burn,' Mrs. Beekman DuBarry, wife of the Assistant to the Commissary General of Subsistence, wrote her mother on April 16. 'The police and troops were out and put a stop to it or it would have been done.'" Reck added: "It was fortunate that General Montgomery C. Meigs, the Quartermaster General, had ordered General Christopher C. Augur, Commander of the Department of Washington, to turn out the troops with 'special vigilance and guards about the Capitol Prison.'"8
Several of those charged in the plot to assassinate President Lincoln were held here. On July 7. I865, conspirators George Atzerodt. David Herold. Lewis Paine. and Mary Surratt. were hanged in the jail's courtyard. In November 1865, Major Henry Wirz, commandant of the Camp Anderson, the Confederate prison camp, was executed here. The prison was closed shortly thereafter. In 1929, the land was acquired for construction of the U.S. Supreme Court on the site.
---
Footnotes
Alexander K. McClure, editor, The Annals of the War Written by Leading Participants North and South, p. 502 (Colonel N. T. Colby, "The 'Old Capitol' Prison")
Allan Nevins, The War for the Union: War Becomes Revolution, 1862-1863, p.312
Robert Harrison, Washington During Civil War and Reconstruction, p. 39
Wayne Mahood, General Wadsworth: The Life and Times of Brevet Major James S. Wadsworth, p. 118
Lonnie Speer, Portals to Hell: Military Prisons of the Civil War, p.82
James J. Williamson, Prison Life in the Old Capitol and Reminiscences of the Civil War, p. iii
David Stephen Heidler, Jeanne T. Heidler, David J. Coles, editors, Encyclopedia of the American Civil War, p. 1434
Waldo Emerson Reck, A. Lincoln: His Last 24 Hours, p. 136.
Visit
Edward Bates
Ward Hill Lamon
Montgomery Meigs
James S. Wadsworth
James S. Wadsworth (Mr. Lincoln and New York)
William S. Wood
Contrabands and Freedmen