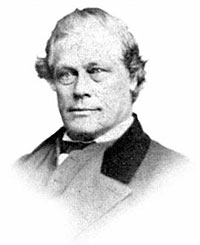 Learn More: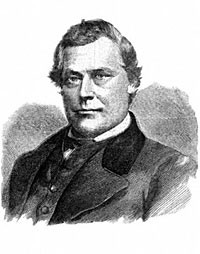 Congregational minister and Congressman from Illinois (Republican, 1856-64), Owen Lovejoy died in March 1864. His support of emancipation infuriated Lincoln's more conservative backers in Illinois, but in Congress, he supported President Lincoln's moderate policies. Lovejoy was described by President Lincoln as the "best friend I had in Congress." John Hay recorded a Sunday visit to the White House in which Lovejoy "avows the deepest faith in A. L. and the firmest adherence, though there is nothing subservient about it."1 Mr. Lincoln himself did not always have the same faith in his ability to see the end of his duties: "This war is eating my life out. I have a strong impression that I shall not live to see the end."2
Although Lovejoy referred to himself as an "old and ultra abolitionist," he was much more understanding of President Lincoln's deliberate progress toward emancipation than most Radical Republicans. "Lovejoy represents a peculiar link between the radicals and Lincoln, anxious to bridge the apparent gap between them by always maintaining his principles, but never attacking the President and showing remarkable understanding for the executive's problems," wrote historian Hans L. Trefousse.3
In April 1862, Lovejoy gave a speech on the House floor in which he said: "Let Abraham Lincoln make himself, as I trust he will, the emancipator, the liberator, as he has the opportunity of doing, and his name shall not only be enrolled in this earthly temple, but it will be traced on the living stones of that temple which rears itself amid the thrones and hierarchies of heaven, whose top stone is to be brought in with shouting of , grace it.'"4 Two months later, Lovejoy gave a speech on June 12 in New York, in which he compared the President to a carriage driver: "If he does not drive as fast as I would, he is on the right road, and it is only a question of time."5 A month later on July 13, 1682, Congressmen Lovejoy and Isaac Arnold visited President Lincoln at the Soldiers Home shortly after Mr. Lincoln's final appeal for compensated emancipation had been rejected by border states. He told his congressional guests, "Oh, how I wish the border States would accept my proposition. Then you, Lovejoy, and you, Arnold, and all of us, would not have lived in vain."6
Lovejoy did not have many additional occasions to visit with the President. On one trip to the White House, however, he ran into Cordelia Perdelia coming out the President's office. When she told she intended to stay in Washington until she achieved her objectives, Lovejoy replied: "That's right, that's right; go on, I believe in the final perseverance of the saints."7
Lovejoy fell ill with smallpox in February 1863; President Lincoln visited him at his boarding house while he was recuperating. Lovejoy was a strong advocate of the Homestead Act, the use of black soldiers, and hard money. His death of cancer in March 1864 deprived Mr. Lincoln of a radical ally in the House. The President told a fellow Illinois politician: "He was one of the best men in Congress. If he became too radical, I always knew that I could send for him and talk it over, and he would go back to the floor and do about as I wanted."8 A month before Lovejoy died, he told Francis Carpenter: "I tell you Mr. Lincoln is at heart as strong an anti-slavery as any of [the abolitionists], but he is compelled to feel his way. He has a responsibility in this matter which many men do not seem to be able to comprehend."9
Owen was the brother of Elijah Lovejoy, a murdered abolitionist. Owen served one term in the Illinois legislature before he won Republican congressional nomination in 1856 over Leonard Swett. Owen Lovejoy himself was an abolitionist, Liberty Party leader, activist on Underground Railroad and powerful speaker who worked to bring Mr. Lincoln into the new Republican Party.
---
Footnotes
Michael Burlingame and John R. Turner Ettlinger, editors, Inside Lincoln's White House: The Complete Civil War Diary of John Hay, p. 121.
Stephen B. Oates, With Malice Toward None: A Life of Abraham Lincoln, p. 380.
Hans L. Trefousse, "Owen Lovejoy and Abraham Lincoln During the Civil War," Journal of the Abraham Lincoln Association, Winter 2001, p. 18.
Edward Magdol, Owen Lovejoy: Abolitionist in Congress, p. 329.
Magdol, p. 342.
Isaac Arnold, The Life of Abraham Lincoln, pp. 251-252.
Rufus Rockwell Wilson, editor, Intimate Memories of Lincoln, p. 562.
Don E. Fehrenbacher and Virginia Fehrenbacher, editors, Recollected Words of Abraham Lincoln, p. 125.
Francis Carpenter, Six Months at the White House, pp. 47-48.
Visit
Isaac N. Arnold
Francis Carpenter
Owen Lovejoy (Mr. Lincoln and Friends)
Conflicts over Owen Lovejoy (Mr. Lincoln and Friends)