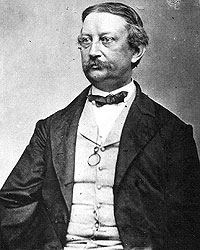 Assistant to the Secretary of the Treasury from 1861 to 1865, Maunsell B. Field became the proximate cause of Salmon P. Chase's departure from the Cabinet.
Chase attempted to appoint Field assistant United States Treasurer in New York in June 1864 to replace John J. Cisco. According to historian Ernest A. McKay, Field was "a man of high social standing with literary interests who was coauthor of a romantic novel. Chase opponents charged that Field was not respected by either politicians or financiers. Field, however, was hardly a novice in the financial world. He had served as an assistant to Cisco for many and was now assistant secretary of the treasury. Nonetheless, Senator Morgan objected to his appointment and offered three well-regarded New Yorkers, R. M. Blatchford, Dudley S. Gregory, and Thomas "Immediately Morgan interposed objections on the grounds of Field's unfitness and the political unwisdom of the appointment. Chase stubbornly sent Field's name to the president. Morgan carried his objections to Lincoln and submitted three acceptable names, R.M. Blatchford, Dudley S. Gregory, and Thomas Hillhouse, his former Adjutant General. 'It is in my judgment discreet to appoint a Republican at New York at this time,' he told the president.
Lincoln now made his own position clear to the secretary of the Treasury. 'I can not without much embarrassment make this appointment, principally because of Senator Morgan's very firm opposition to it…It will really oblige me if you will make choice among these three, or any other man that Senators Morgan and Harris will be satisfied with, and send me a nomination for him.'
Morgan expected to prevail. On June 30 he wrote Hillhouse, 'I write this now to say that I hope you will be prepared to make any necessary sacrifice, that may be required of you in behalf of the Public interest. I have this morning heard that no appointment will be made for a short time in the place of Cisco but that he will hold on a while. I do not know how long, nor what will come of it. Quite privately, I will say to you that I never will consent to the appointment of Mr. M.B. Field as Cisco's successor.
Chase had determined to force the issue. He submitted his resignation, apparently believing that the president would refuse it, as he had once before, and make concessions. Instead Lincoln promptly answered, 'Your resignation of the office of the secretary of the Treasury, sent me Yesterday, is accepted.'
The New York squabble had provoked a cabinet crisis and effected displacement of one of the foremost radicals. Morgan was jubilant. 'It is not a dark day to the country, but among the brightest we have seen for many days lately. The country will move on,' he wrote a business partner.1
Senator Edwin Morgan objected to the choice—after Chase had promised President Lincoln that he would clear the nomination with Morgan. "I can not without much embarrassment make this appointment, principally because of Senator Morgan's very firm opposition to it," Mr. Lincoln had written to Chase. "It will really oblige me if you will make a choice among these three, or any other man that Senators Morgan and Harris will be satisfied with, and send me a nomination for him."2
On the day before his assassination, Field came upon the President as he took an afternoon ride to the Soldiers' Home. He recalled: "I was driving alone on the Fourteenth Street road in the direction of the Soldiers' Home. Presently, I heard a clatter behind me, and, looking out of the carriage-window, I saw Mr. Lincoln approaching on horseback, followed by the usual cavalry escort. He soon came up to me, and, while he rode for some time at my side, we conversed together upon indifferent subjects. I noted that he was in one of those moods when 'melancholy seemed to be dripping from him,' and his eye had that expression of profound weariness and sadness which I never saw in other human eye. After a while he put spurs to his horse and hurried on, and he and his followers soon lost to view."3
Lincoln chronicler Anthony Pitch wrote that Field "was one of the first political appointees to arrive at the Petersen House. He had been in the reading room at Willard's Hotel when two men charged in, electrifying all with news that the president had been shot inside Ford's Theatre. Field ran four blocks down E. Street and up 10th, where crowds had already formed. When Field encountered Clara Harris, who had been in the presidential box with the Lincolns. She told him: "O, Mr. Field, the president is dying! But for heaven's sake, do not tell Mrs. Lincoln."4 Field later wrote out a statement on the events of that night:
"On Friday evening, April 14, 1865, at about half-past 10 o'clock, I was sitting in the reading-room at Willard's Hotel, engaged with a newspaper, when a person hurriedly entered the hotel and passed up the hall, announcing in a loud tone of voice that the President had just been shot at Ford's Theatre. I started to my feet, and had hardly reached the office when two other persons came In, and confirmed the report—which at first I was hardly able to credit. I had parted about fifteen minutes previously with Mr. Mellen, of the Treasury Department, who had retired to his room for the night, and I at once went to him and communicated what had occurred, and we started together for the scene of the tragedy.

We found the streets already crowded with excited masses of people, and when we reached the theater there was a very large assemblage in front of it, as well as of the opposite house, belonging to Mr. Peterson, into which the President had been conveyed. The people around the theater related to us substantially the general facts connected with the assassination, which have since been communicated to the public. The impression was prevalent, however, at that time, that the President had been shot in the breast, about the region of the heart, and that the wound might not prove fatal. After a few minutes, we crossed the street, and endeavored to gain admission into the house where Mr. Lincoln lay. This I effected with some little difficulty.
The first person whom I met in the hall was Miss Harris, daughter of United States Senator Ira Harris, of New York, who had been at the theater with the Presidential party. She informed me that the President was dying, but desired me not to communicate the fact to Mrs. Lincoln, who was in the front parlor. Several other persons who were there confirmed the statement as to Mr. Lincoln's condition. I then entered the front parlor, where I found Mrs. Lincoln in a state of indescribable agitation. She repeated over and over again, ""Why didn't he kill me? Why didn't he kill me?"
I asked if there was any service I could render her, and she requested me to go for Dr. [Robert] Stone, or some other eminent physician. Both Dr. Stone and Surgeon-General Barnes had been already sent for, but neither had yet arrived. On my way out I met Major T. T. Eckert, of the War Department, who told me that he was himself going for Dr. Stone. I then went for Dr. Hall, one of the most distinguished surgeons in the District. I found him at home, and he at once accompanied me. When we again readied the neighborhood of the house, access had become very difficult, guards having been stationed on every side.
After much effort, I was enabled to obtain admission for Dr. Hall, but was not at that time permitted to enter myself; accordingly I returned to Willard's. The whole population of the city was by this time out, and all kinds of conflicting stories were being circulated. At three or four o'clock, I again started for Mr. Peterson's house. This time I was admitted without difficulty. I proceeded at once to the room in which the President was dying. It was a small chamber, in an extension or back building, on a level with the first or parlor floor. The President was lying on his back, diagonally across a low, double bedstead, his head supported by two pillows on the outer side of the bed.
The persons in the room were the Secretaries McCulloch. Stanton. Welles, and Harlan, Postmaster-General Dennison, the Attorney-General, the Assistant Secretary of the Interior, Senator Sumner, of Massachusetts, General Halleck, General Augur, General Meiers, General J. F. Farnsworth, of Illinois, General Todd, of Dacotah, the President's Assistant Private Secretary, Major Hay, the medical gentlemen, and perhaps two or three others. Dr. Stone was sitting on the foot of the bed. An army surgeon was sitting opposite the President's head, occasionally feeling his pnlse, and applying his fingers to the arteries of the neck and the heart.
Mr. Lincoln seemed to be divested of all clothing, except the bed coverings. His eyes were closed, and the lids and surrounding parts so injected with blood as to present the appearance of having been bruised. He was evidently totally unconscious, and was breathing regularly but heavily, and with an occasional sigh escaping with the breath. There was scarcely a dry eye in the room, and the scene was the most solemn and impressive one I ever witnessed. After a while, Captain Robert Lincoln, of General Grant's staff, and eldest son of the President, entered the chamber, and stood at the headboard, leaning over his father.
For a time his grief completely overpowered him, but he soon recovered himself, and behaved in the most manly manner until the closing of the scene. As the morning wore on, the condition of the President remained unchanged until about seven o'clock. In the mean time, it came on to rain heavily, and the scene from the windows was in dreary sympathy with that which was going on within. Just before this, Mrs. Lincoln had been supported into the chamber, and had thrown herself moaning upon her husband's body. She was permitted to remain but a few minutes, when she was carried out, in an almost insensible condition.
At about seven o'clock, the President's breathing changed in a manner to indicate that death was rapidly approaching. It became low and fitful, with frequent interruptions. Several times I thought that all was over, until the feeble respiration was resumed. At last, at just twenty-two minutes past seven o'clock, without a struggle, without a convulsive movement, without a tremor, he ceased breathing—and was no more.
Thus died this great, pure, kind-hearted man, who never willingly injured a human being—the greatest martyr to liberty the world has ever seen.5
---
Footnotes
James A. Rawley, "Lincoln and Governor Morgan," Abraham Lincoln Quarterly, March 1951, Vo. VI, No. 5, pp. 292-293
Roy P. Basler, editor, Collected Works of Abraham Lincoln, Volume VII, p. 413.
Maunsell B. Field, Memories of Many Men and Some Women, p. 321.
Anthony S. Pitch, "They Have Killed Papa Dead!", p. 134.
La Fayette Charles Baker, History of US Secret Service, pp. 468-470.
Visit
Salmon P. Chase
Treasury Department
William Pitt Fessenden
Abraham Lincoln and Salmon P. Chase
1864 Patronage Problems (Mr. Lincoln and New York)
William H. Seward (Mr. Lincoln and Freedom)
Peterson House
John J. Cisco
Abraham Lincoln and Civil War Finance